G

eriatric Care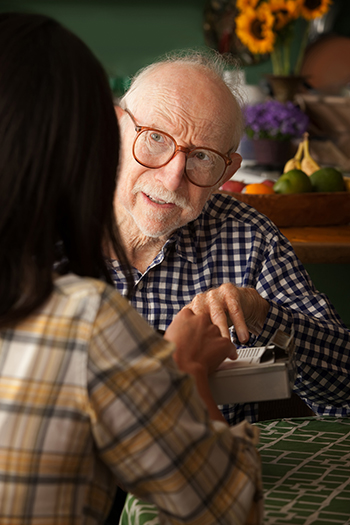 Auspice Home Care Solutions, LLC is now providing Geriatric Care Management. These services include:
Case Management Services
Mini Mental Exams
Coordinating Doctor and Therapy Appointments
Home Safety Evaluations
Assisting With DME
Communication With Discharge Planners or Social Services
Referrals to Required Community Resource
And Much More…
What is a Geriatric Care Manager?
A Geriatric Care Manager is a health and human services specialist who acts as a guide and advocate for families who are caring for older relatives or disabled adults. The Geriatric Care Manager is educated and experienced in any of several fields related to care management, including, but not limited to nursing, gerontology, social work, or psychology, with a specialized focus on issues related to aging and elder care.
The Geriatric Care Manager assists clients in attaining their maximum functional potential. The individual's independence is encouraged, while safety and security concerns are also addressed. Geriatric Care Managers are able to address a broad range of issues related to the well-being of their client. They also have extensive knowledge about the costs, quality, and availability of resources in their communities.
Professional geriatric care management is a holistic, client-centered approach to caring for older adults or disabled persons. The goal is to improve the client's quality of life and reduce family stress through:
Assessment and monitoring
Planning and problem-solving
Education and advocacy
Family caregiver coaching
What are the benefits of using a Geriatric Care Manager?
Professional Geriatric Care Management services are offered in a variety of settings. Geriatric Care Managers can serve the needs of their clients by providing:
Personalized and compassionate service - focusing on the individual's wants and needs.
Accessibility - care is typically available 24 hours a day, 7 days a week.
Continuity of care management – communications are coordinated between family members, doctors and other professionals, and service providers.
Cost containment - inappropriate placements, duplication of services, and unnecessary hospitalizations are avoided.
Quality control – care management services follow NAPGCM'S Standards of Practice and Code of Ethics.
COST: FREE

Contact Us:
1754 E. Bullard Ave., #102
Fresno CA 93710

559.436.4782 (24/7)
Monday-Friday: 8:00-5:00